Project: A New Day (Part 1)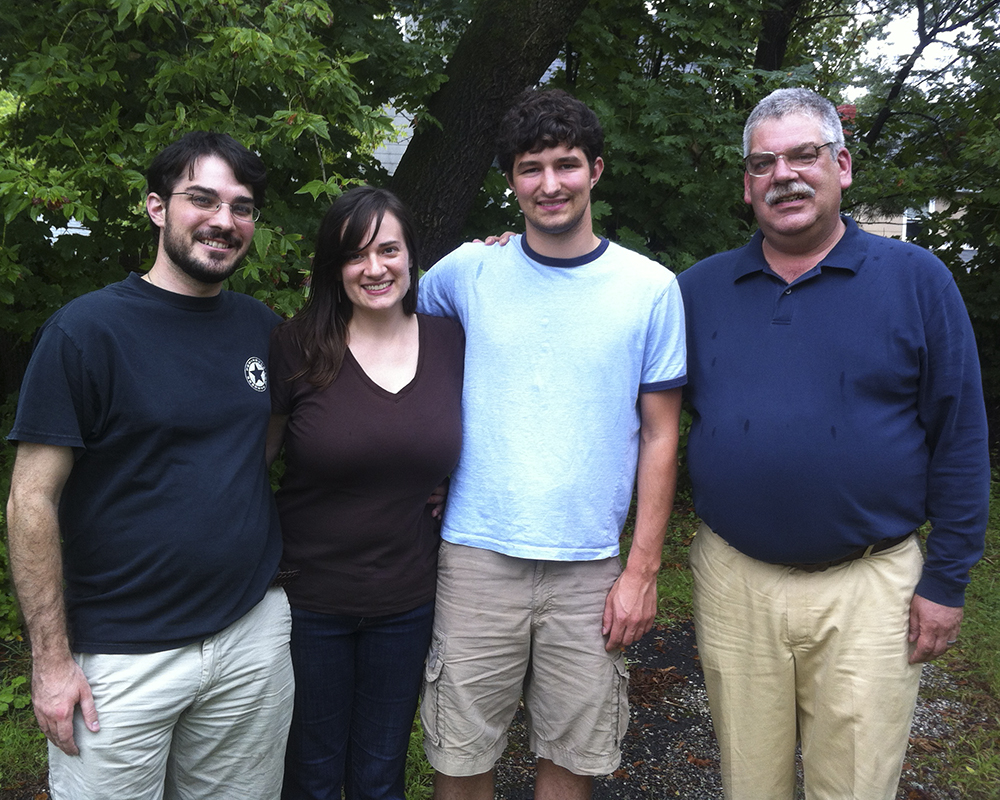 I get a wide variety of projects here at Garage Mahal Recording Studio, and that's the way i like it – diverse. So when I was contacted by Vincent "Cap" Mona in July of 2013 about recording a christian vocal group, I was game for a nice change from recording rock bands. This group, A New Day, had disbanded after graduation from college and for the most part gone their separate ways, but occasionally would reunite for a one-off performance. Cap had seen them perform in a church in Cape Elizabeth, and enjoyed them so much he felt the rest of the world needed to hear them, offering to bankroll a recording session of holiday songs and a CD pressing. He contacted me, we talked a bit and, after a tour of the recording studio, he selected me to record the group. (I also hooked him up with Crooked Cove for CD manufacturing – 27,000 units to be distributed to various faith-based charities. Cap is big on giving back.)
Recording was scheduled for Labor Day weekend, with the group flying in from various destinations. Top quality keyboards were needed, and since I don't keep any here, a great sounding Roland unit was rented, the first time I've rented gear in I don't know how long.
The group consists of Ben (baritone), Andrew (tenor), Cindy (soprano) and Jim (keyboards), and I sent them up in a rough circle with the null points of the microphones pointed to minimize bleed. There were only 5 tracks to record, 3 vocals and stereo piano, so recording was pretty easy for me. The performances themselves, though, were quite intricate and pretty amazing. Many of the songs on the cd were not part of the regular repertoire and were specific requests by Cap, so sight singing was a major part of the performance, something the vocalists excelled at. As I listened to them perform take after take, their vocal and piano skills were actually a bit awe-inspiring, (Cindy in particular) and the arrangements were really intricate, breathing new life into fairly commonplace material.
After two days of recording, we had performances down and the group departed, leaving me for the most part to my own devices for mixing. Tonally, everything was fine, just a few bumps needed smoothing out (minor pitch correction & timing issues), though levels were a bit funky. Due to being not totally comfortable with the material, not everyone was on the same page in every spot, energy-wise. So, I had to employ some level automation to make all the players rise and fall together.
Overall the mixing was completed pretty quickly, as Cap needed finished CDs to meet holiday deadlines for the charities. Before I was finished mixing there was talk of recording another CD sometime in the fall, one of the group's regular repertoire.
Stellar musicianship made this session work. I generally work with good musicians, but it's rare that I get to work with people of such high calibre – they really went above and beyond.
Here at Garage Mahal Recording Studio, we welcome any and all musical styles that utilize live musicians, and look forward to helping you achieve your musical vision. Contact us now to tour the recording studio and book your next recording session.