Project: Afterblack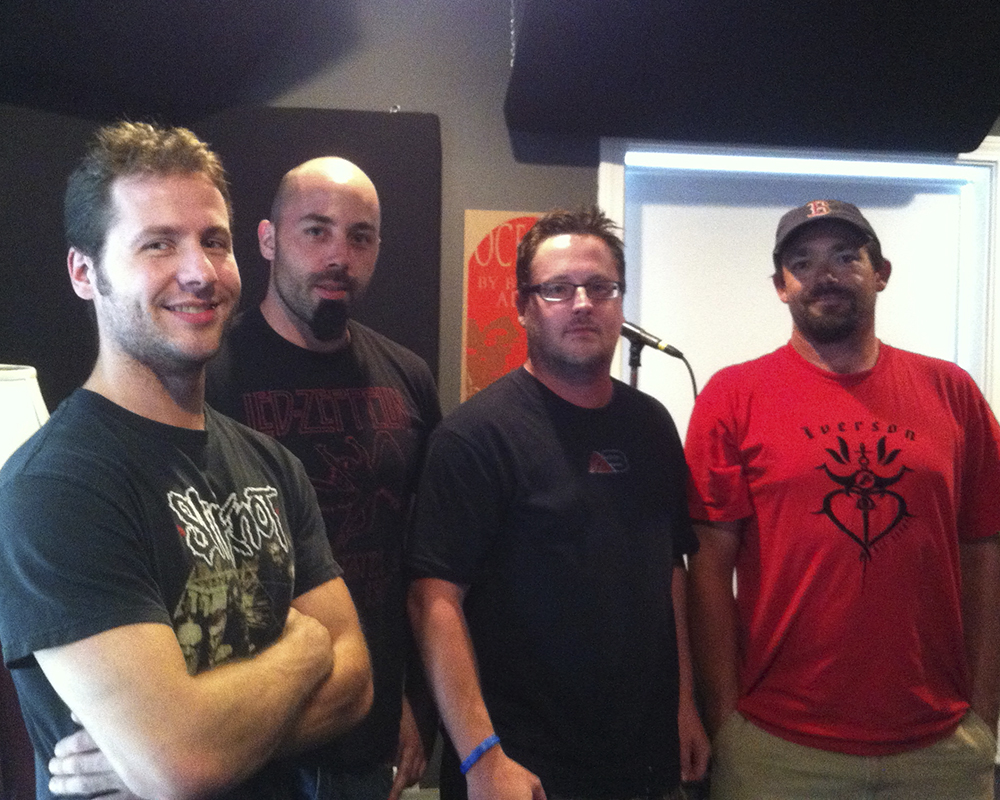 Back in February I was contacted by one of the guys in Afterblack, an alternative rock band from Waterville Maine about recording a 4-5 song EP in April. We went back and forth via email, settled on a price and date, and he agreed to send in the deposit I require.
The check never arrived, so I never put them on the recording studio schedule, and the date came and went without a peep from them. I assumed they changed their minds and thought nothing more about it. Then in June it came to my attention through Facebook that they were mounting a kickstarter-like campaign to finance the recording to take place at another studio, one of my competitors. Over the next month I would see updates about the progress of their campaign, culminating in success: their campaign was fully funded and recording would start soon. They boys sounded very excited.
The next morning I saw in my inbox an email from them. I was assuming it was a nice note saying they had chosen another recording studio. Upon opening it, I was surprised to read that they had decided to go with Garage Mahal Recording Studio! Obviously I was thrilled to hear this news, but still surprised. A meeting at Garage Mahal Recording Studio was scheduled so the guys could check the place out and we could sit down and chat about the project. During the meeting we hashed out a new recording schedule and I booked them for mid august.
The guys arrived on a Friday for load-in. I set them up with my usual arrangement: drums and players in the main room, amps in the booths. Since they preferred to track with vocals, I set vocalist Lucas up with a mic in the control room, passing audio to the headphones but not recording or passing back to the control room monitors.
Guitarist Bernie brought an unusual guitar amp: A fender half-stack with metallic levels of distortion. Fender is revered for chimey, clean or slightly overdriven guitar amps, not for hard rock tones, so when he plugged in I was pleasantly surprised to hear creamy, dense distortion with little or no amp noise. Hats off to Fender for a great design and to Bernie for having the wisdom to purchase one. When good guitar amps come through the studio door, my job as a recording engineer gets easier.
Because of the distance to Waterville, I had not been able to do any pre-production with the band. I was recording them sight-unseen. Once tracking started, I found them to have a traditional alt-rock sound very much in the vein of Foo Fighters and Queens of the Stone Age. Bernie in particular obviously cut his teeth as a player on Nirvana records, his tones being very Kurt Cobain-ish. Lucas also possessed a powerful, clear baritone voice ala Scott Stapp and early Scott Weiland.
Tracking progressed during the first day, with the guys laying down 7 songs! Nice progress. The sense of accomplishment, however, was short lived: Upon returning the next day, it was determined that 3 tracks were not to their liking, the band feeling that they had rushed them. So, it was decided to stick with the 4 originally planned songs, plus one acoustic/vocals number.
Day 2 was mostly comprised of guitar overdubs, fixes, and acoustic guitar tracks for the 5th song. The doubling of the acoustics was particularly nice, at times sounding more like a chorus-y single guitar as opposed to two guitars.
Finally it was time for lead vocals. Lucas had been singing guide vocals all day, and was fully warmed up. The Shure KSM-44 condenser mic suited his voice nicely, and he proceeded to lay down quality vocal tracks pretty quickly. Eventually, though, his voice started to sound strained (like I said before, he had been singing guide vocals all day), so we called it quits for the day, with all of the third day left to finish up.
Day 3 was short: finish lead vocals, record some backups, and that was it. We discussed a mixing budget and some options for mastering.
Mixing commence after a few days off from the project, and I got the opportunity to try out some new toys. The Waves CLA-3A compressor plugin got use on several tracks (bass, drum group, vocals) and really fattened up the acoustic guitars. It's an emulation of the old UA LA-3A hardware compressors that were so common in NYC recording studios when i was starting out. I haven't used the hardware version in many years, so I can't say if it's a dead-on match, but the plugin does capture the functionality and vibe of the original. Close enough in my book.
I also placed the Waves Kramer Master Tape plugin on the output buss for some soft, tape compression emulation. Not too much, as I wanted to leave some room for the mastering engineer to do his thing, but it glued the tracks together nicely, making it sound more like a finished record.
Once the guys in the band had heard the mixes, there was some changes but not a lot: editing out a few "mistakes" that were not caught earlier, adding a vocal effect here and there, and tweaking some levels to the band's liking. Upon hearing the Covered In Bees tracks, the guys decided to go with Scott Elson Mastering for the mastering phase. Scott's first go-round was a bit heavy-handed on the compression, and I felt the drums were getting buried. (that's a common complaint I have with mastering.) I guess the guys in the band agreed, so Scott cranked out another version, dialing back the compression and making the drums step back forward.
So at this point, the audio is finished, and the guys in Afterblack are working on the packaging. I saw a preliminary version of the cover and it's decidedly evocative of a TV show that's very popular right now. You'll have to go pick up the disc to figure out which one.
All said and done, the Afterblack sessions went without a hitch, and like with Covered in Bees, a well rehearsed band led to a productive recording. The guys were thrilled with the results and hopefully we will be working together again in the future.