Project: Corland Richards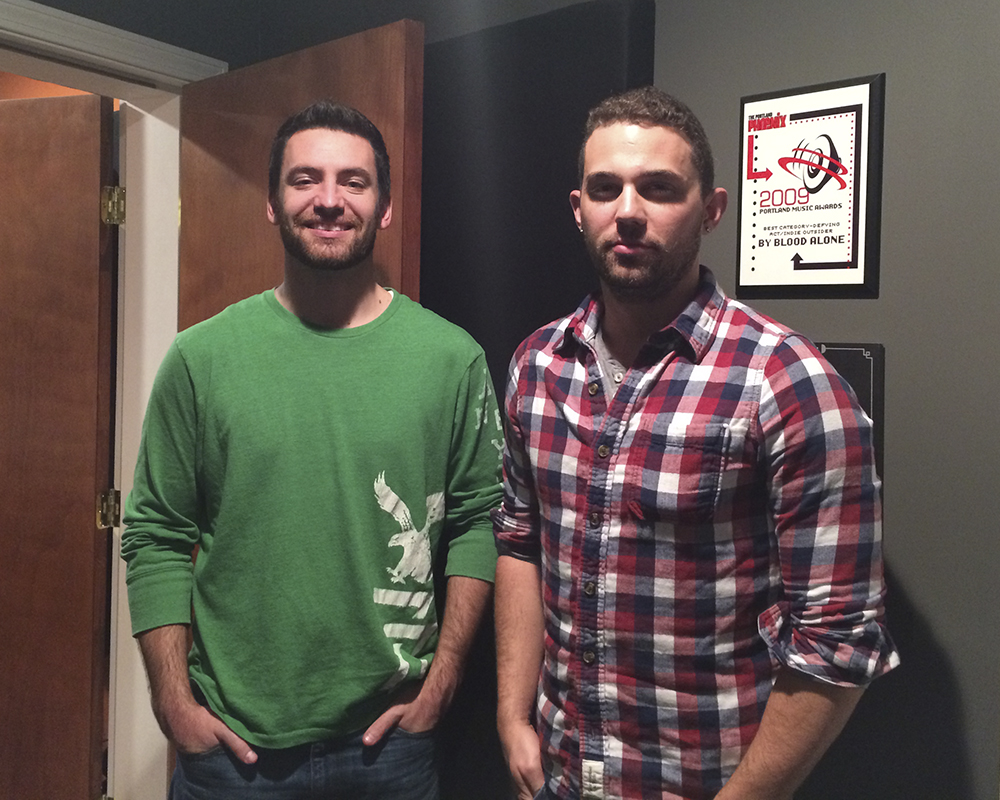 Now that Way Back Home, the debut album by Maine singer-songwriter Corland Richards is out, I can finally blog about it. Corland and I spent over a year at Garage Mahal Recording Studio with various other musicians crafting 11 tracks of really strong material in great secrecy, without as much as even posting a photo on facebook.
The overall production was so long I can't recall a lot of the details, other than we basically recorded the album twice. After the initial contact with Corland and his manager, Sam Green, recording commenced with the intent of getting the vocals and guitar down, then adding other instruments, including drums, later. This was an initial red flag for me, as I knew adding drums after the fact was a sticky proposition, but despite my advice, the sessions moved forward as-is.
After several weeks of tracking guitar and vocals, the time for the drum tracks finally came, and what i predicted would happen did in fact happen. The drummer, who otherwise was very capable, could not lock in to the nuances of Corland's rhythm guitar part. The rhythm just ebbed and flowed too much for a drummer to follow confidently. Once the problem became painfully apparent, a new game plan was developed. The original sessions were scrapped and the project was put on hold while Corland searched for a drummer with whom he could rehearse for a while so drums and scratch guitar/vocals could be laid down simultaneously.
A few weeks later, Corland returned to the studio with veteran drummer Pete Webber, and tracking recommenced. Pete was just the ticket, having learned the songs and arrangements, and possessing a "serve the song" style that fit well with Corland's vocal-oriented material. After a few days, all 11 tracks were down.
After Coland finished off his guitar parts, An old bandmate of Pete's, Joe Petty, was brought in to play bass and electric guitar. Joe is another "serve the song" type player, and that's exactly what he did – lay down solid bass parts and tasty leads, plus some backing vocals.
A myriad of other instruments (including a deliciously nasty harmonica) dot the album, all recorded remotely and sent to me via the internet for insertion into the project files. I really like the contributions by these musicians that I never met, and they really work well with the songs.
Finally the time came for Coland's vocals. His voice was good when the project commenced, and after several months of work, he was singing even better. Sam added backing vocals in a lot of the songs, and guest vocals by Alli Stauble on "Dear Brianna" and Ya Favorite Homey JR on "It Starts Tonight" really took those songs to another level.
Mixing was quite the challenge, as at this point the songs were pretty well loaded with tracks, both instrumental and vocal. On top of this, as the mixing neared completion, Corland felt the need to redo some of the vocals, and then actually started adding new vocals. At this point I realized that the pressure of completing the album was getting the best of him and he was second-guessing his own judgement, something I've seen happen to artists before. My only recourse was to gently put my foot down and tell him the album was great as is, and we should just finish it and be done with it. Fortunately, he listened, the mixes were finished, and sent off to Jordan Disrobo for mastering.
At this point I was pretty burnt out on the project, and put no more thought into it until the cd release show was announced a few months later. Corland had put together a band including his manager Sam on rhythm guitar and backing vocals. The show itself was great, and it was refreshing to finally hear the songs performed live. The crowd absolutely ate it up. What's more, I unwrapped my complimentary copy of the cd to find myself credited as producer! That made me feel even better about the whole experience.
So, if you have a ambitious, lengthy project to record, Garage Mahal Recording Studio is more than up to the challenge. Call or email us today to get the ball rolling.