Project: The Bedbugs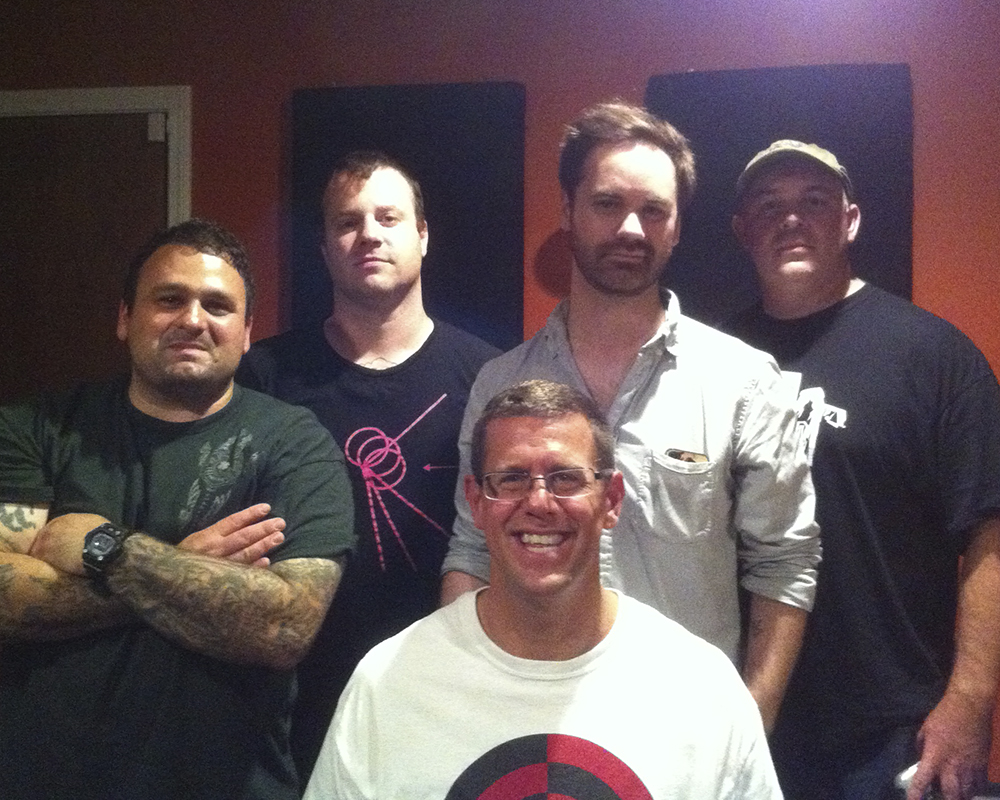 Back in the fall I was contacted by drummer John Hoerner about recording a 5-song EP for his new band, The Bedbugs. (John and I used to play together in By Blood Alone). It would be a pretty straight up recording session – two guitars, bass, drums, vocals. The band booked a weekend in September for tracking, hoping to get everything recorded in 10 hours – a pretty quick turnaround for a new band, but both they and I felt up to the challenge.
Things started to go awry from the beginning, but not disastrously so. Unforeseen scheduling conflicts prevented some band members from arriving on time. Then at the last minute, an emergency popped up for guitarist Ritchie and he had to bow out of the session altogether, leaving other guitarist Jason to handle all the guitar tracks. Fortunately, Jason knew all the parts and was able to fill both roles.
I arranged the band in the usual recording setup (players in main recording room, amps in booths, vocalist in the control room), and the group started laying down some classic punk tracks that reminded me of the Dead Milkmen. Vocalist Matty spun some colorful lyrics about unmanned drones, getting old, combat vets, and Bigfoot. (Yes, the hairy dude in the pacific northwest.) These were all placeholder vocals that the rest of the band could hear in their headphones but did not go down "to tape", as us old-timers tend to say.
The guys were pretty efficient with their time, and after basic tracks were done, Jason laid down a second rhythm guitar track, plus some tasty, melodic leads. For final vocals Matty was moved into the main room, and he was well prepared, so his vocals went down quickly, though I could tell he was straining to not dance during the vocal takes.
Lastly, the entire band crowded around the vocal mic to lay down a humorous spoken word track thanking the fans for picking up this, their debut disc. Quite the chuckle-fest.
Mixing I did on my own, and as the timeframe was short, the mixing went pretty quickly. This was straight-up punk rock, so it's not like there was a reason to labor over subtleties – just set the tracks up to ROCK, then print the mix. Again, mastering was handled by my go-to guy, Scott Elson at Elson Mastering. Scott added some weight and crunch for an in-your-face final product.
Not ever session goes as smooth as silk. Try as you might, not every variable can be taken out of the equation. But all said and done, the band overcame a somewhat rocky start and delivered. That's what we do here at Garage Mahal Recording Studio – we do our best to remove obstacles from the recording process so you can deliver on your potential. Call or email us today to book your next recording session.