Project: Viva!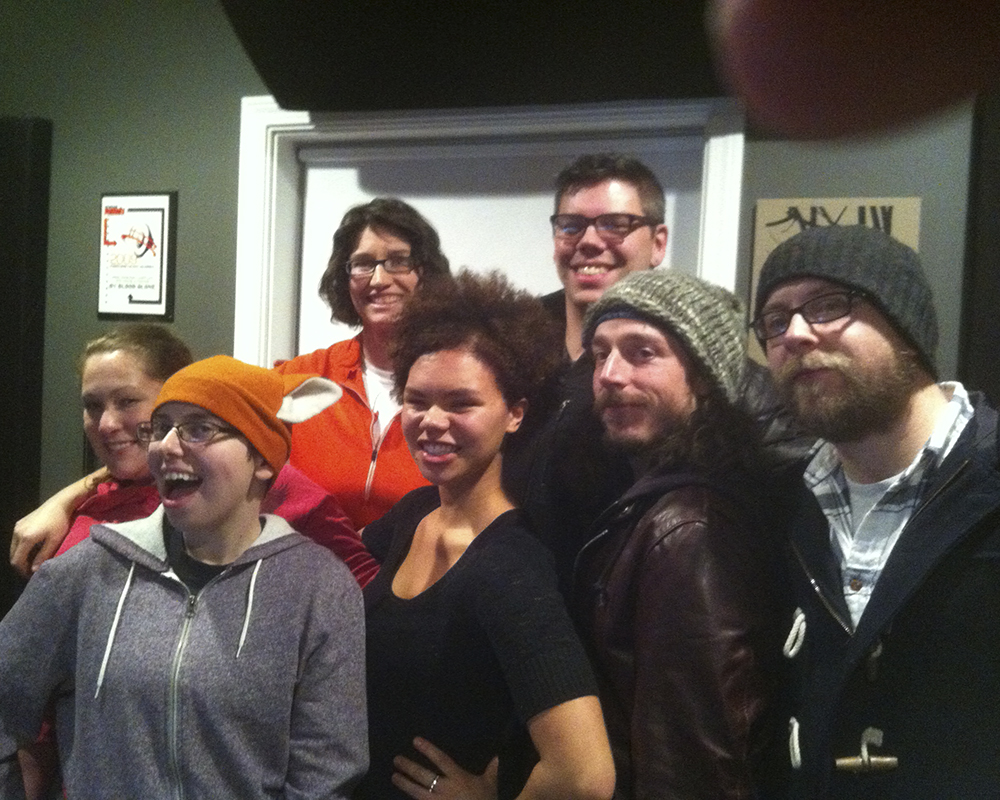 If an artist for an upcoming recording session is rehearsing in the Portland Maine area, I like to drop by and observe – it gives me the opportunity to look over gear, get a feel for material and arrangements, and foresee any potential pitfalls before the clock is running. For the most part, bands that record at Garage Mahal Recording Studio are very well rehearsed. Often they need to be to keep the recording sessions short and thus keep costs down.
Latin-jazz group Viva! proved to be a refreshing exception to the rule. I met up with them at the home of vocalist Olivia Crupi for their rehearsal to learn that the drummer would not be attending. On top of that, they didn't seem to have the arrangements worked out yet. This was a bit out of my sphere of experience, but the band was confident they would get it right in the studio. In their corner was the fact that the rhythm section consisted of Chas Lester of the Fogcutters on drums and Duane Edwards of Primo Cubano on standup bass – both of whom are known in the Portland music scene for their chops. Plus, Olivia definitely had pipes and charisma. I returned home unsure of how the session would go.
Turns out, the session went great. Along with Olivia, Chas and Duane were keyboardist Jacob Cooley, saxophonist/vocalist Rexy Judd and percussionist Nichole Bailey. After deciding to overdub percussion, sax and vocals, I set Chas, Duane and Jacob up in the main room, taking care to keep the bass equidistant from each of the two overhead drum mics (to keep the bass centered), and with the null point of the bass mic pointed at the drums (to minimize bleed). After some discussions about the arrangements, the guys proceeded to lay down all three tracks (2 standards and an original by Rexy) with lots of soul and swing. I was pleasantly surprised – Like I said, I was used to bands that HAD to be well rehearsed. These guys, on the other hand, were such good players that they didn't need rehearsal. New territory for me, but it was definitely working.
Within a few hours, basic tracks were completed, and the guys packed up and left. I then set percussionist Nichole up with a single dynamic mic as she overdubbed various hand percussion instruments, including triangle. Yes, the woman played jazz triangle, and it was funky. After percussion we called it quits for the evening.
Olivia, Rexy and I reconvened a week later for sax and vocals. Rexy's sax playing on "Black Orpheus" and "Angel Eyes" reminded me a bit of trumpeter Chet Baker – relaxed and mellow. Vocals were next. I was already expecting a great performance from Olivia, and she delivered the perfect mixture of soul and understatement with a bit of an Astrud Gilberto vibe. The gal's got a subtle spunk.
On Rexy's song "Van Gogh", sax was set aside and Olivia and Rexy provided counter vocals, first Rexy, then Olivia with a completely different vocals part, then the two parts intertwining together. Really great.
Once everything was tracked and I had a few days to reflect on the project, I started mixing. The material was such a refreshing change of pace from the rock bands I usually work with that I didn't really feel that I was "working". The kick drum was a bit tricky, as Chas kept the front head on and usually I request that drummers take it off, but I think I got it right in the end.
After getting the mixes about 75 percent complete, Olivia and Rexy came in to finalize. Reverb was cut back, vocal balance was tweaked here and there, and there was some overall polishing. In the end both Olivia and Rexy were thrilled with the results.
Olivia is planning on bringing her project back to Garage Mahal Recording Studio in September to record more tracks and release a full album. Her game plan (recording a small project first before tackling a full album) is a sound one that more people should employ – especially if they are new to studio recording. Here at Garage Mahal we work with both studio veterans AND studio newbies, and are always prepared to help clients through the process. Call or email us now and we can develop a game plan for your recording project.